Photographer: Aleksi Kokora – Editor: Sems Erik
Finland has been occupied with viewing campaigns on social media, as people casted their votes for Finland's best model in 2023. In May, Finland's Fashion Model Agency presented the 'Model of the Year' competition on the Yle channel, which generated a great amount of interest among young people. Not only is it an international agency, but it is also touted as one of Finland's oldest agencies in the field of training and discovering new faces in fashion since 1982.  
Cultural diversity has truly distinguished the past few years, creating more allure and excitement in the competition. As female and male candidates serve up their greatest looks in hopes of receiving the title of the best model, their multi-cultural mosaic reflects a rich and bright vision of Finland's universality.
Hailing from America with a strong Latino heritage, Leon Guevara received the title of the best male model. In the female category, the title went to Sharon Elisha.
Born in May 2005 in the Bronx, one of the five boroughs in New York City, Leon has quickly made himself known at such a young age. As his mother is from the Dominican Republic and his father is from El Salvador, Leon holds his Latino heritage close to his heart. At the age of three, he moved to the Dominican Republic with his mom. After five years of living in the Dominican Republic, they moved to Finland when Leon was eight years old. Since then, Finland has witnessed the launch of a new brilliant star in the world of fashion modeling – both locally and globally, as his remarkable presence reflects nothing but excellence and pride.
First act
I started modeling at an early age, as it was simply a hobby back then. Over time, my hobby grew into a deep love for fashion and modeling. Naturally, love turned into passion the moment I realized that I could make a mark in this field. When I was 15 years old, I started the process of developing myself and my skills professionally at the Fashion model agency. Through their useful modeling course, I learned a lot and gained plenty of experience. They may manage my modeling career, but my agency feels more like a family.
I have been to many different fashion shows all over Finland, such as Koe22 and Koe23. I have also attended the Fashcene Underground fashion show in Turku, Finland. I also participated in many of my agency's fashion shows, both in student fashion and in Rovaniemi. The Rovaniemi show was such an extraordinary experience that I enjoyed, walking down the runway in the cold.
It can be said that as I gain more experience in this field, the brighter my name shines. Wherever I am, seeing people's positive reactions makes me feel very optimistic about my future in fashion and modeling.
My inspiration
It's gonna sound a little bit cliché, but my biggest inspiration and role model have always been and will always be my mom. Without my mom, I wouldn't be modeling. She has always taught me that working hard for something will pay off in the end. My mom has always been by my side through it all, even the challenges and lessons that I've endured. I'm thankful that God gave me such a supportive mother.
Challenges
When it comes to any dream, there can be a lot of challenges and obstacles. But if you work hard for your dream, anything can be possible. Having a different cultural background may pose a challenge for many, while they try to reach their goals and prove themselves. Personally, I successfully integrated into society on many levels. More importantly, I have a unique personality that makes me who I am today.
Sociability is one of the qualities that quickly made me successful in the Finnish modeling market. Even though I just turned 18, I have always been a sociable person since I was a kid. Traveling frequently and meeting many kinds of people also made it possible for me to become more open to different cultures, which is a huge advantage in the fashion industry. Cultural diversity is important for a model to understand and accept, as they meet people with different backgrounds and learn the keys of being well-integrated. All in all, it makes me proud of who I am.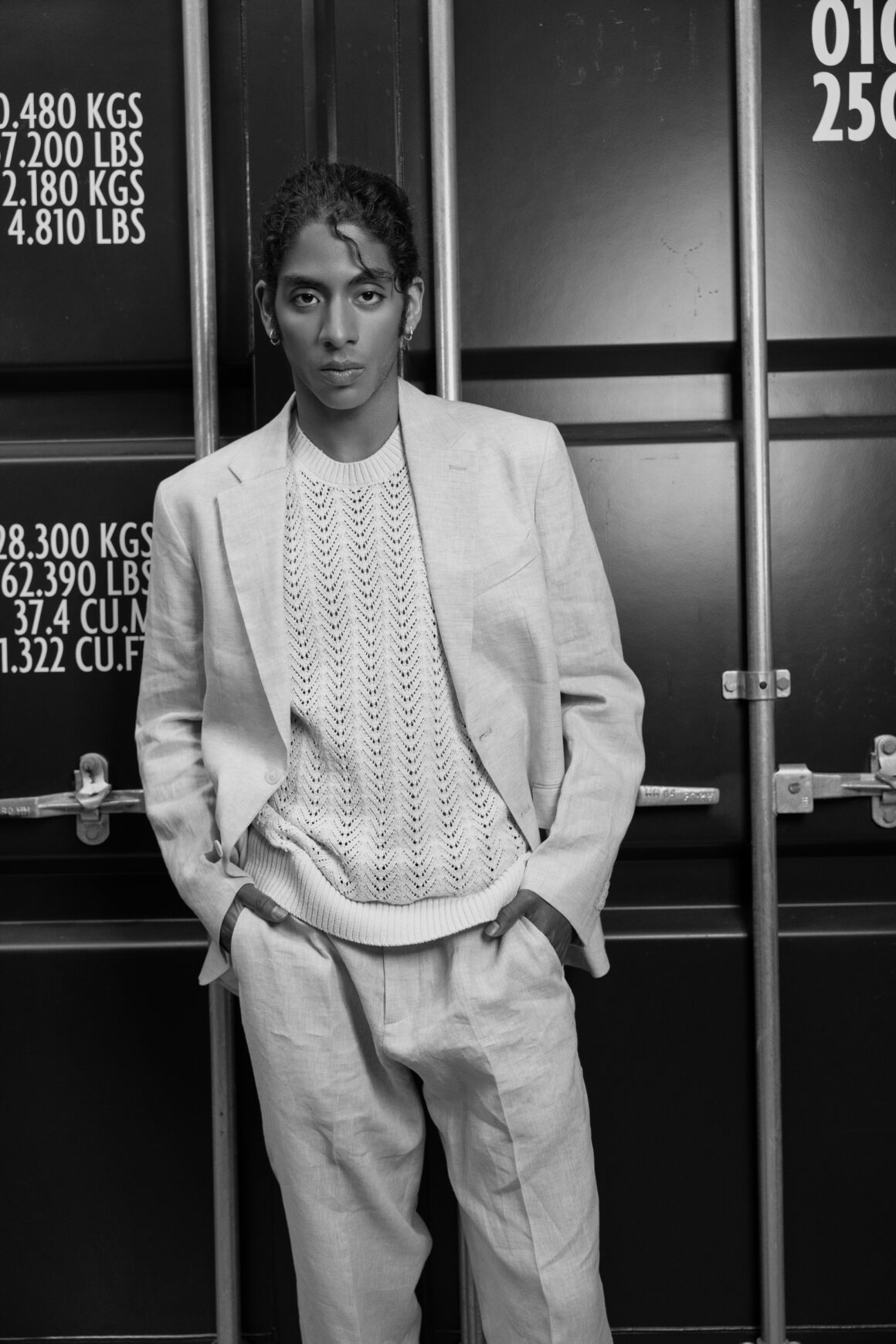 Photographer: Aleksi Kokora – Editor: Sems Erik
Hunting for Models
Singularly known as Finland's only international model competition for women and men, the Fashion Model Agency selects a handful of men and women to showcase their best looks each year.
In hopes of receiving the title of Finland's top female and male models, 10-12 women and 8-10 men appear in various fashion events and photoshoots as part of the finale.
Each of the finalists receive training in various areas, e.g., presentation skills, internationality, social media, marketing/branding, and Lifecoach, as well as building their portfolio and sample cards. Among these finalists, two winners will be selected to attend the European Model Showcase in Paris to launch their international careers.
Check out the event at http://www.emshowcase.com/ for more details.
Held every year at the end of May, the European Model Showcase is Europe's largest model casting event, where the biggest international modeling agencies search for fresh faces.
During the four-day event in Paris, they meet the world's largest and most important modeling agencies and agents, e.g., from Milan, Paris, Tokyo, Barcelona, Osaka, London, and Hamburg, and attend private model agency meetings.
In order to participate in the competition, female models are required to be between the ages of 14 and 25 and their stature must be between 173 cm and 183 cm; male models must be between the ages of 16 and 25 and be at least 180 cm tall, but no more than 190.5 cm.
The competition holds categories for "Women Top Model Finland" and "Men Top Male Model Finland".
The winners, one female and one male, are awarded with a casting trip to the European Model Showcase, where they meet all the biggest agencies from around the world.
The agency covers their licenses to the event, as well as their airfare and hotel expenses. They also sign a contract with us, develop a professional international portfolio with photographer Julia Borodina, and receive a gift card to be used with our agency for more training or photoshoots. There are several other prizes from our partners, such as beauty products, treatments, and clothes.
The best catwalk model and most photogenic model (female and male) also receive prizes from the agency partners, and every finalist gets a gift card from us.
After the previous season finishes, Finland's Fashion Model Agency starts scouting straightaway for the upcoming season. We hold castings for the competition at our agency at least once a month. The ones selected forward will participate in a semifinal on December 2nd and a final semifinal in January, where the finalists are selected by judges. The finale takes place at the beginning of May each year and the annual Paris trip is at the end of May, so keep your eyes peeled.
Being Finland's top model of the year 
Honestly, everything happened so fast that I haven't even processed it yet. The competition was an unforgettable experience. Not only were the candidates amazing, but it also didn't even feel like a competition at times. I learned a lot, and I will never forget them. With that being said, receiving this title is undoubtedly an important step in my fashion career.
Winning the title of Finland's top male model in 2023 is a huge door opener for me. Looking back at my success, something I highly recommend is always keeping your feet on the ground and always being yourself.
A lucky year
As I mentioned, one of my most recent modeling projects was at Helsinki Fashion Week 2023. I also was in Paris recently, and I had a unique casting experience. Paris was a great opportunity for me to see the fashion and modeling industries over there, as all we know that Paris is the heart of the fashion world. On top of that, I signed a new contact with "Martine's Women Agency," a French fashion modeling agency. By going international, it only makes my vison much clearer.
I truly believe that this year is my year, but I must continue to work hard and develop myself. My to-do list is extremely full, knowing that there is so much to do.