Photographer: Aleksi Kokora – Editor: Sems Erik
Our artistic figure today has a distinguished presence and a calm personality, which not only embodies peace but also his vision of himself and his choices that are considered outside the comfort zone. He believes that taking the easy path does not mean that the choice is correct. Because of this, he has not imitated the experiences of others and began his own journey without looking back.
Not only is his knowledge expansive, but he also used his acting talents to successfully resettle in Finland and launch his professional career. Originally from Baghdad, Iraq, 35-year-old Mustafa Mahmood has a bachelor's degree in teaching from his homeland. After moving to Finland in 2015 and gaining citizenship, he received a Vocational Qualification certificate for kitchen and facility property management, as well as an Electric and Automation certificate in Turku. He enjoys sports (gym, football, volleyball), watching movies, listening to music, and jogging. He chose Finland because it is a quiet, less-populated country full of beautiful nature.
This is how it works for me
Transitioning from a Middle Eastern culture to a Finnish culture can be challenging. These two cultures are very different from each other in terms of language, religion, social norms, and values.
In this case, it is important to approach the assimilation with an open mind and a willingness to learn about the new culture. Building relationships with locals and seeking out opportunities to participate in cultural events can be helpful in adapting to a new environment.
When luck meets opportunity
I can say this without exaggeration or dramatic feelings, but it is the truth.
Sometimes signs of change and success are born from the heart of suffering because that is exactly what happened to me.
During my asylum period in Finland, I sought after psychological comfort and a safe life in a peaceful country devoid of war. In the midst of adapting to Finland, I practiced my acting and theater hobby with friends inside the asylum center.
In 2016, the filmmaker Kalle Raittila was at the refugee reception center in Mänttä-Vilppula. At the time, I was unaware of who he was. Nonetheless, he approached me to see if I wanted to be a part of his documentary film called Kotouttajat, talking about the refugees and how they've integrated within society.
It was such a strange feeling back then, perhaps happiness mixed with dread. But I've never forgetten that important moment, as it launched my acting career. The doors were suddenly wide open, which later became somewhat of a challenge for me. When I moved to Helsinki in 2018, more opportunities came to me.
Remarkable acting roles
Like any person who chose the field of acting and the arts, there are some works that have a special place in my heart. These acting projects and roles contributed to the formation of my artistic personality and took me to significantly advanced stages in my professional acting career. Out of these acting projects, the most prominent was Sekasin 3, which was such a serious project that it created a huge buzz in Finland with plenty of media coverage. I still remember that after I received the script, I read more about a character named Haidar, who was Hussain's older brother. The story of those two brothers began when they lost their home and everything in Iraq. They tried to flee from Iraq, and ended up seeking asylum in Finland. You can watch the TV series to get more details about them, but this was an unforgettable experience. I was so sad on the last day of shooting because I knew that was the last time we would be together. I made a cake that displayed the name of the series, and brought it to the set to memorialize our last day. The set was at a school in Kerava, and it took us a month to shoot 8 successful episodes there.
I'm still in touch with nearly everyone, from the actors to those who worked behind the scenes. I'm so happy that through this project, I made a lot of friends – better yet, a family. I now know what success truly means, seeing the love in their eyes when I look at them. It is important to be humble and modest with everyone. I always try to help my friends, especially the Arabic actors that I work with. Being unselfish is just as important because I believe if you give something without asking for anything in return, you will gain better rewards.
I also can't forget the movie Omerta from 2021. On the train heading to school in Turku, I saw an announcement online that they needed extra actors for a Finnish movie. As I went through the details, it quickly captured my interest because it was the first international action Finnish movie, starring Jasper Pääkkönen. After I sent an email, they gave me the role of an Interpol agent doing office work and walking around. It was a great experience seeing many actors and getting in touch with people from abroad.
In my opinion, it is a good action movie, but there was shortage with the scenes that could have given more details to background action and events.
Karuselli is a comedy TV show, where each episode is different than the other episodes. The main actors are Jussi Vatanen and Kari Hietalahti. I applied for a role on this tv show online.
During the episode that I acted in, there was a group of male friends that were either divorced or unhappy, so they went to a men's club to change their lifestyle.
My role involved one of the men's groups that did sports and ate together. It was a funny experience.
On Kansan Vihollinen, a Finnish crime TV drama series, I acted as an extra. In my role, which I applied for online, I was one of the group guests walking alone with a couple to the church for the funeral of a character that got killed. The shooting took place in Tampere, and I had a great time there. It was a good opportunity to see and talk with other actors, such as Antti Luusuaniemi and Tobias Zilliacus, and get some advice from them.
Pohjolan Laki 3, a Finnish drama TV series, was a nice experience as well. I saw their advertisement on the Internet that they were looking for Arabic actors especially from Iraq, which gave me the motive to send my application. I was an extra actor with two scenes as a father. The story behind my role is in the midst of fleeing to Europe with my wife, we got captured on the Russian-Finnish border when the border guards found us hiding in the van. In the second scene, I had a Skype video call with my wife and daughter. We shot the first scene at the Malmi airport and the second scene in Helsinki.
In Yli Kioski Suhteeton Silmäpeli, a comedy sketch, I was a businessman named Miken. And in the documentary film Kotouttajat, my role was Mustafa.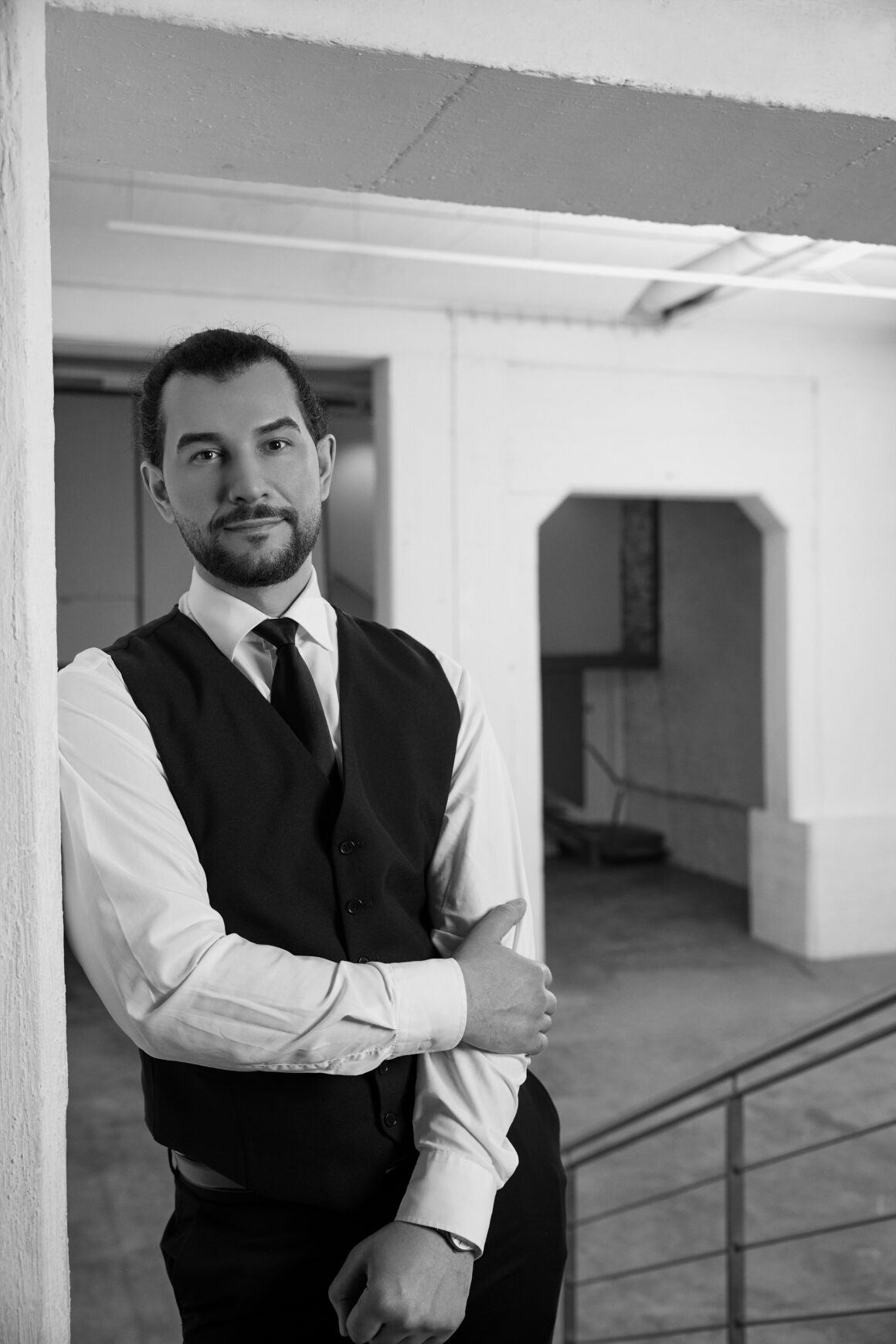 Photographer: Aleksi Kokora – Editor: Sems Erik
Me, the actor
As an immigrant involved in Finnish TV series and movies, I have had the unique opportunity to contribute to the representation and portrayal of immigrant experiences on the screen. Evaluating my role in these productions allows for self-reflection on the significance of my presence, the impact of my contribution, and the personal growth I have experienced throughout this journey. It has also been a reflective journey, encompassing personal empowerment, bridging cultural divides, representation, cultural exchanges, and personal growth. The impact of my presence extends beyond the screen, promoting understanding, dialogue, and inspiration. By continuing to embrace and share our stories, immigrant actors can play a pivotal role in shaping a more inclusive, empathetic, and interconnected society within the Finnish entertainment industry.
At this level, I can say I'm lucky that I have the opportunity to show who I am as an artist. What makes me unique from others is that I'm a peace-minded, introverted person that is also persistent and friendly because being in front of the camera requires me to be bold and courageous. My background and my outlook also help me stand out as a remarkable person.
By being versatile and adaptable in different roles and performance styles, it increases opportunities for integration in that field.
It should also be noted that acting in Finland has some challenges for foreign artists, mainly because of the language and the cultural background. Nonetheless, I feel there will be more and more open possibilities because the Finnish population is becoming more diverse. There are many Middle Easterners living in Finland, which deserves representation in tv and in movies.
A commercial face, why not?
I think that any actor in his beginnings wants to be present in many artistic projects, such as TV series or films, but it is not always that easy. There are challenges facing many young artists, such as the lack of production. It has become increasingly challenging for people with different cultural backgrounds. Fortunately, there are other opportunities to market myself. I have had plenty of luck securing roles in advertising campaigns for many local companies and brands because I consider this a marketing tool in identifying myself and being rewarded in the media. The most prominent of these projects was commercials for VR Suomi and JoyActor Suomi, as well as a commercial in the summer of 2021 for Lidl. I also did a still commercial for GE Healthcare, Posti, Varma, and Suomi.fi, as well as a spot commercial for Walo Rooftop Bar, and a commercial for Nokia Phones, the Ministry of Agriculture and Forestry, Torni Hotel, Jyväskylä city, and Espoo city.
In the future, I'm willing to showcase clothing and accessories through various acting mediums, such as runway shows, because I think the industry is changing and becoming more diverse. It is a multifaceted role that goes beyond just looking good in front of the camera. It involves understanding the brand's values, connecting with the audience, and effectively conveying the desired message. Through my work, I also aim to inspire confidence, promote diversity, and challenge beauty standards. It's an empowering experience to be part of an industry that celebrates individuality and embraces creativity.
Thoughts
There are many factors that help immigrants to be successful in localization, society, and the labor market, including language proficiency. Being fluent in Finnish promotes effective communication and integration into Finnish society and its labor market.
When it comes to the culture, understanding norms and respecting Finnish values, traditions, and etiquette can help you navigate social interactions.
It is also important to network and build connections, and search from different places and different means like the Internet. Continue to learn more professions and gain skills, and more importantly, be patient.