Photographer: Aleksi Kokora – Editor: Sems Erik
Dubai, Qatar, Saudi Arabia, Syria, and Iraq are some countries in the Middle East whose people are distinguished by the culture of trade and entrepreneurship that expresses their self-reliance, which is unquestionably reflected in the mentality of Arab immigrants residing in Finland.
Young people of Arab origins have clearly expressed their desire to enter the world of business from its widest doors, as hardly a month passes by without seeing large front-page headlines in magazines about Arab project owners and company owners. Because of their efforts, both in developing the course of their lives and in the services they provide, their communities have reaped the benefits.
One of those young people has captured our attention, as well as the media, due to his youth and extraordinary investments in the field of health care.
Currently residing in Helsinki, 23-year-old Abbas Al-Zireg was born in Iraq and moved to Finland in 2010 with his mother from Jordan. At the time, they settled in Kuopio where he spent his youth. In his free time, he enjoys going to the gym, playing football, shopping, traveling, and relaxing. Although he is socially open-minded, he craves his own peace and periods of quietness as they are valuable for recharging his batteries.
These days, Abbas spends nearly all of his free time focusing on his business. In addition to being a business owner, taking care of his family and being a devoted father to his son are some of his top priorities.
As a passionate traveler, he jokingly told us that he bought a house overseas and that he will buy another house in Finland. Having two houses is a convincing reason for him to travel permanently, spending 6 months in Finland and another 6 months abroad.
The challenges
Coming to Finland as a child makes it easier to assimilate into the system and study and work than entering the country as an adult. However, I struggled a lot back in my school days, which made my journey as a student more difficult in a new environment and making friends. Fortunately, it was a small group that gave me trouble, but people like that can cause a lot of damage. Without knowing the Finnish language, it was difficult to do anything at first because I couldn't express myself. After learning the language, I finally felt that I was able to study and work well in Finland.
A Call to Co-exist
One of the difficulties and challenges that immigrants face in Finland is establishing confidence in the Finnish labor market, which requires additional effort through their methods of dealing with and expecting results.
However, sometimes there are preconceived impressions that may be incorrect and reflect personal attitudes. These preconceptions become an obstacle for displaced entrepreneurs to identify, which limits the speed of their integration into the Finnish business market and reduces the strength of their economic role. I remember when I first started my own company, I asked a Finnish colleague to call customers in order to boost their confidence in the company. By doing so, it positively affected customer service. If I did it on my own, it would be different due to my ways of communicating. Nonetheless, it is something that I would like to change because this mentality shifts a bit once you try – and then you are able to explain and bring the values upfront.
By explicitly expressing some of the negative experiences from my past, it gives an incentive to young immigrants not to despair, but rather to insist on being successful. It also proves that all the negative experiences in life exist in all cultures and societies, as they are not linked to a specific country. Most importantly, it shows us how to deal with it and overcome obstacles.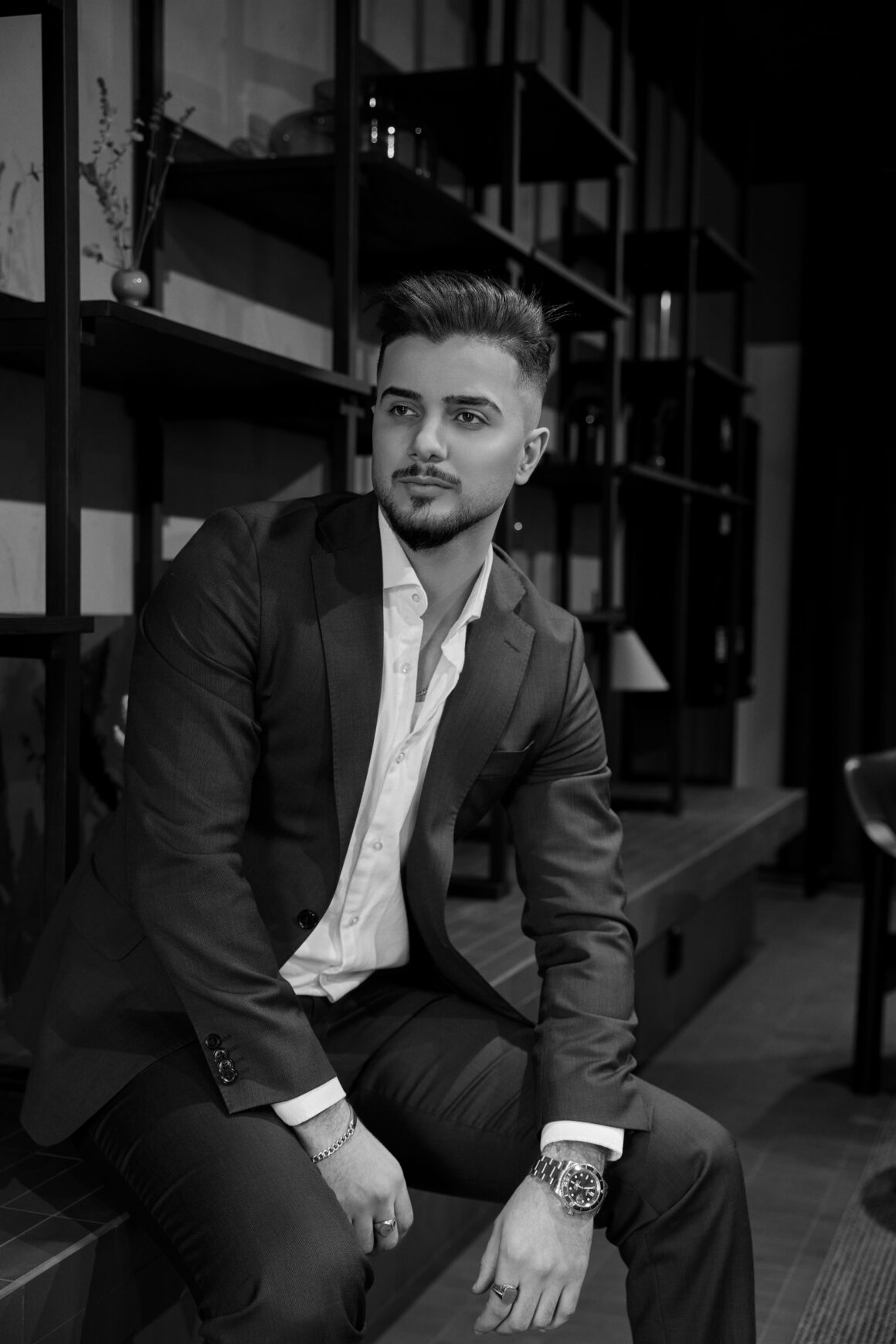 Photographer: Aleksi Kokora – Editor: Sems Erik
The path to success
From the perspective of a young entrepreneur, you need to be brave and open-minded enough to set up a business in a highly competitive market. The key is to have the ability to adapt and cope with the pressure of ever-changing situations.
You have to trust yourself and learn from your mistakes the first time. In my opinion, training does not help in this situation when you are dealing with a completely different sector and playing field. All knowledge comes along the way, as you learn and grow from your mistakes. Entrepreneurship is like its own battlefield of knowledge where only the best survive. In Finland, it would be important for a young entrepreneur to ask for help because the rules of Finnish society can surprise you. Fortunately, I have been able to ask the right people, and I'm lucky to have them in my circles.
Self-made concept
Being self-made and a good learner regarding entrepreneurship, I started figuring things out on my own. In Finland, there are many things for an entrepreneur that only come to light while you are working. Many people tell you different things, so you have to be aware of what is right and what you should do. When I graduated as a nurse, I didn't immediately think of becoming an entrepreneur. In fact, the idea only came up while I was working.
As a person who holds a deep belief in God, I know that He has wisdom in everything that I went through in my life. He is also present everywhere I go, whether that is in Iraq, Jordan, or Finland. I believe I have been remade into who I am now. I also stand behind my own choices and decisions. My colleague and I have worked together as a duo and created a successful business without help.
Being an independent person by nature, I found my own way to integrate well in Finland. I learned the language quickly. From there, I was able to study with my peers because my Finnish was so good. When it comes to your own path, it is a mixture of reasons that open up the horizons for you and your future success.
Dream Team AH Oy
Since founding the company in August 2021, our operations have expanded beyond our wildest dreams. Our goal is to create a staffing business that stands out from others, and to achieve hard results with a small team. With courage and open-mindedness, we have been able to create a successful growth story. In fact, our slogan is:
"Courage is relying on the miracle that lives inside you. You are more than you realize." – Tommy Hellstein
I have always wanted to be an entrepreneur. Years ago, I used to work long hours and overtime, especially during the Corona crisis. I noticed the tremendous efforts made by workers in the health sector, and I felt that their efforts were greater than the financial compensation they received, so that fostered the idea to help people gain better working conditions that makes them feels more appreciated.
It took one decision to change my life, which was the night when I realized that I could become a healthcare entrepreneur.
I quickly set up a staffing business; initially, the plan was to work in the business myself and hire a few nurses. I did not originally anticipate it becoming a million-dollar company, but as the company grew, I realized that it was indeed possible to grow into one of the biggest staffing companies in Finland.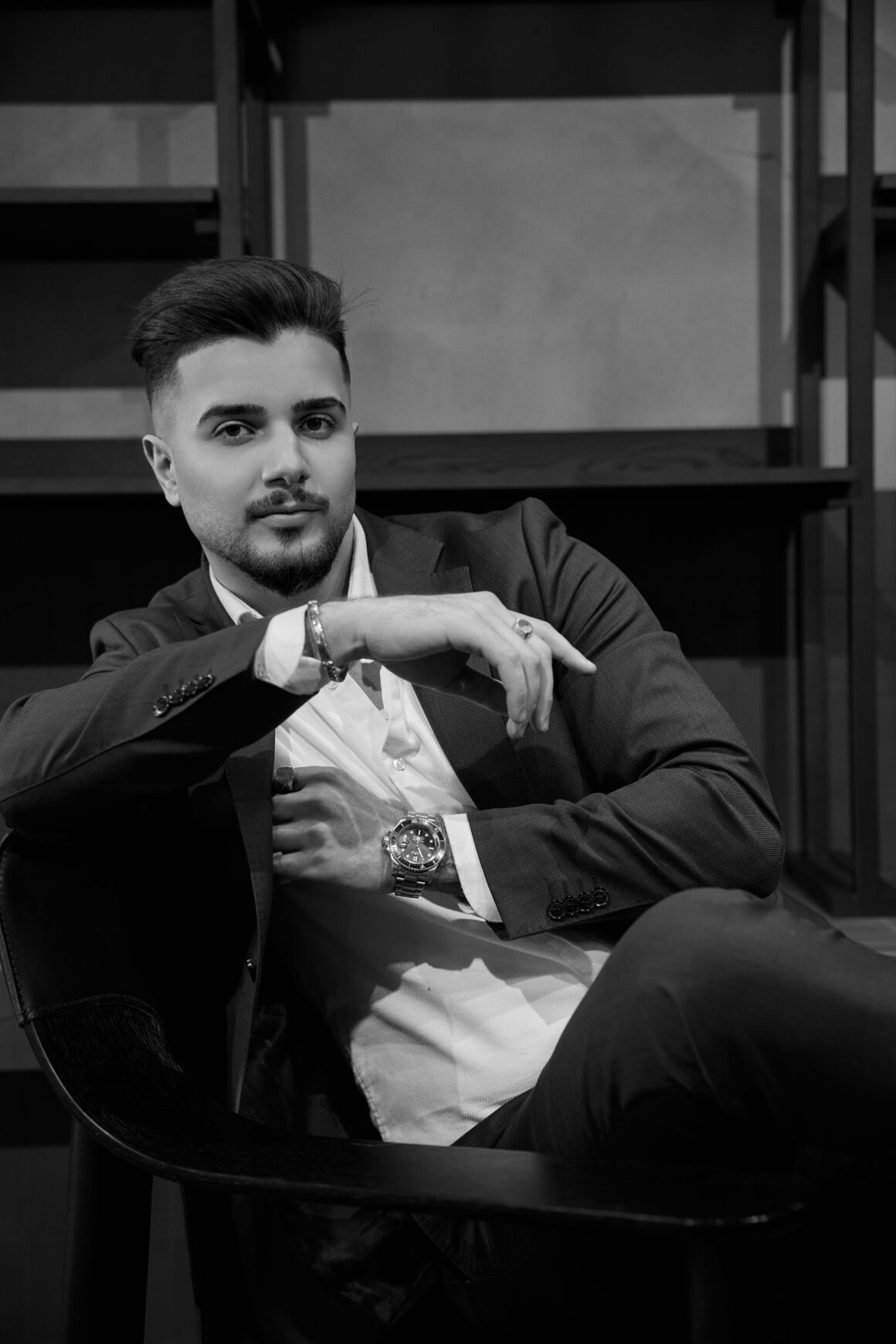 Photographer: Aleksi Kokora – Editor: Sems Erik
We might be similar, but
We are similar to many recruiting companies, but what distinguishes us is that we have the services of recruiting healthcare workers beyond Finland as a basic activity for our company. In doing so, the market value of our company has increased.
In order to recruit workers outside of Finland, it requires the boldness that our company has. We have made effective contributions to support the Finnish health sector, and we still have a lot to do.
Our credibility in providing services quickly is something we seek to maintain, as it is one of the reasons why we have attracted new partners. We also pay good wages and attend to everyone's wishes on an individual basis.
Continuing our investment in healthcare projects is our goal, not only to gain financial success but to also leave a mark on the community. We always strive to bring back the values through the services that we provide with love.
Belonging to the community
I owe the deepest of my gratitude to this country, as it has always made me feel welcome. This sense of belonging helped me take on unique initiatives, especially for a young businessman with an Arab background.
I have recently made many contributions to some sports activities in the community. Since I sponsor a football club called Kuopion Elon 2-Divarin, the Dream Team AH Oy logo is displayed on their official sports uniforms. Not only am I an avid fan of the club, but I also consider this matter to be an element of support for the youth. It also creates a good image that corrects misconceptions about immigrant businessmen and contributes to community cohesion.
I have also searched for new and distinctive ideas and projects across various fields in Finland. Investing in them, it encourages others and creates new opportunities.
I help young generations to get started in the business world in Finland, but I don't want to stop there. I would like to establish an international project in the field of business so that I can continue helping others across the globe.