Photographer: Aleksi Kokora – Editor: Sems Erik
While social media obsession is undoubtedly a harmful phenomenon that is prevalent among young people, this cannot be generalized because there are some positive examples of people on social media.
When you see a young person embark on an artistic endeavor while balancing employment and higher education, you can see why he became famous on social media at the age of 20. His positive influence must be spread, especially in Finland where young people typically do not complete their secondary or university education.
This helped us recognize how essential it is to provide a space for the youth, as this may help dispel some myths and benefit society, particularly among young people.
An active role model
Hani immigrated to Finland with his family in 2016 due to the deteriorating political situation in Syria, searching for stability and peace. His story illustrates the diligence of young immigrants in the West, who have been negatively portrayed as non-working, aggressive people in some media platforms.
He currently works at a well-known restaurant and studies media. With 21K Instagram followers and more than 12K TikTok followers, he captures people's attention through his artistic content as an art designer for physical expression in addition to his talents in music distribution. He is one of the most followed among the Arab youth in Finland, particularly in the Eastern communities.
"I started my first experiments on social media in 2017, but it was difficult to attract people's attention to my talent because of my lack of experience," Hani explains. "However, perseverance and constant progress allowed me to see the result I was looking for, and what will come next is always better.
Create Your Opportunities
Personally, I don't believe that opportunities in life will come your way naturally. Find a way to create them for yourself. You must take initiative and demonstrate your excellence in Finland, a country that encourages and promotes diversity in talents, cultures and artistic endeavors.
Being successful has never been simple for me; ever since I arrived in Finland, building my career has been very challenging due to many obstacles, the biggest of which was language. Other challenges included my ignorance regarding the artistic community and the artistic medium, in addition to figuring out where I could develop my talent, and how to do it. I was also forced to discover my talent on my own in a foreign country when it came to the areas of physical expression or musical distribution.
Although there are a good number of dancers with Arabic origins, they are not known in the media or through social media, and they are not active in the art scene. It may be due to a lack of personal diligence, pessimism, or other reasons. They are good dancers, but what distinguishes one person from another is the ability to face challenges, be alone, and be determined to achieve goals.
Composing my own music is what differentiates me, as it goes hand in hand with creating content that presents itself through choreographies and physical expression.
"Talent isn't always enough, but the desire to succeed makes challenges more enjoyable."
Cultural mix
Eastern music is not very well-known in Finland, but there has been another recent definition of this type of music and oriental dances due to the increasing number of Arab and Eastern communities, as well as a large infusion of Iraqian culture. This prompted me to compose and perform Arabic music alongside international music, sometimes in English and sometimes in Finnish. I strive to have a cultural and artistic personality that distinguishes me in the music I produce or the videos I create, all of which is reflected in the positive comments I've received. Whether it's about my dance performance or my music composition, these comments also generate a lot of positive recognition from people, particularly Finns, and encourage me to always do my best.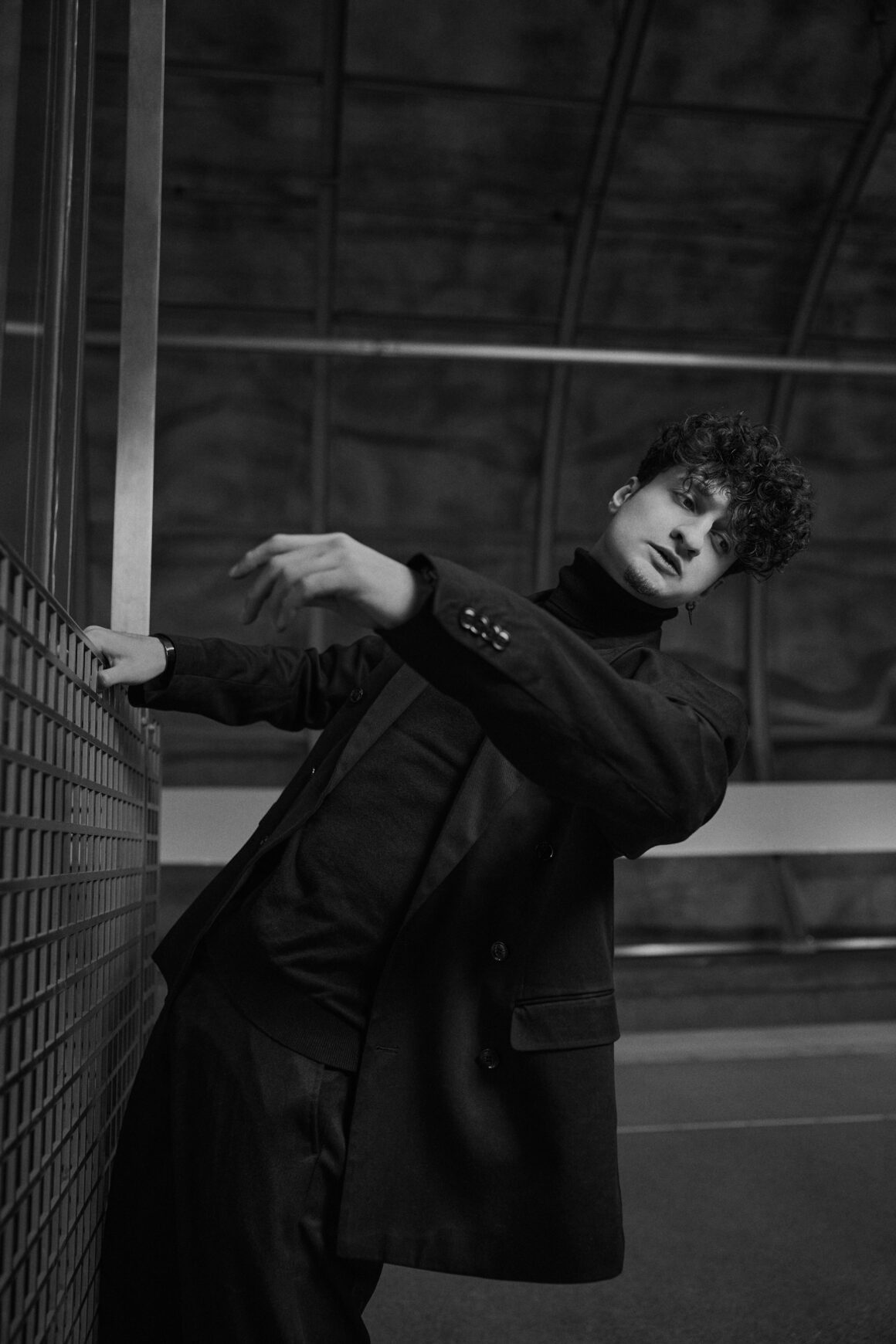 Photographer: Aleksi Kokora – Editor: Sems Erik
Heading the trends
Along with the goal of becoming a professional, I wanted to do something unique and artistic that reflected my love of music and physical expression. Young people nowadays crave fame and prominence in a field, particularly through social media. Because of this, it's created a competition among us to impress and attract the most followers for what we offer.
My artistic activity is currently concentrated in Lahti, but Helsinki will be my focus in the future; participating in various artistic events in another city, whether it's a dance or musical performance, will help me maintain a distinct and always interesting presence.
"When I am alone or I want to rest, I always go to design music or create choreographies of my own. This makes me feel happy and comfortable, which is reflected in my outlook on life."
Brotherly Support
Because family is very important in our Arab culture, especially when we are away from home, my brother has always been the best supporter and partner in my career. In fact, we have a team called the Semom brothers that specializes in music production and choreographies.
It is not an exaggeration when I say that my brother provides me with the ultimate support and motivation.
Fundamentals, challenges, and aspirations
My lifestyle is built on many fundamentals, such as practicing sports regularly and learning new choreographies. I am also taking care of my mother, who lives alone. As an Arab, being present with my mother daily is very important to me.
When I was younger, I became nervous and concerned about my future as a consequence of the tense conditions, the war I witnessed in Syria, and the migration from my hometown to Europe. I almost gave up hope at one point, but this only fueled my determination to have a distinct lot, and all of these difficulties will serve as motivation.
Perhaps my fast and enriched lifestyle is due to my life choices, which is big for my age. My involvement in media takes up a large portion of my time because it requires regular broadcasting and media projects. I sometimes don't have time to train and do most of my practices at night (sports or choreographies).
In Finland, I see myself as having the potential to leave my mark in the media. I chose them not by chance because I want to create a positive image of social media influencers who have high educational and academic degrees, are active in their real lives, and are social activists. After graduation, I intend to establish a media institution to jumpstart my professional experience in media and larger-scale artistic projects.