Photographer: Aleksi Kokora – Editor: Sems Erik
Born to an Iranian father and a Finnish mother, Sara's cultural background and talents are equally diverse. She currently resides in Helsinki, Finland with her husband and queen-like daughter.
Not only did she graduate with a Bachelor of Arts degree in cinematography, but she also works as an actor, and a DEI consultant who is passionate about creating work that breaks stereotypes.
As a speaker, it is no surprise that she has a talent for languages with her fluency in English, Finnish, and Farsi. When it comes to quality time, she enjoys a multitude of things, such as playing music on the piano, yoga, boxing, and hiking. While she may describe herself as an average cook, she is undoubtedly a killer carpool karaoke singer.
For the first time ever, we intentionally expanded the introduction of our article to truly showcase Sara Salmani and her career, as she is an inspiring guest of our honor.
When you search her name on the Internet, you will find a great richness in what has been written about her in the last 10 years.
Upon the realization that most of the articles written about her were confined to fashion, it prompted us to cover different aspects of Sara's life.
While fashion activism can be considered a multi-activity, its continuity and permanent renewal is what distinguishes it, reflecting her clear long-term vision.
Her unique style and activism have been extensively covered through the media and famous Finnish magazines and newspapers, including Menaiset Eeva, Helsinki Sanaomat, and many others..
Sara is represented in various sites and platforms that bring together renowned public speakers in Finland.
Sara became the first veiled Muslim woman in Finland to deliver a speech through the global TEDx platform, which took place in Turku in 2017.
Sara has worked with hundreds of companies and organizations worldwide, including Meta, Coca Cola, YLE, MTV, and many more.
Through this article, we provide the key for many others to research Sara's experience and success, and for people to recognize her as a motivational role model for diligence, perseverance, creativity, and continuity.
Wearing my hijab unapologetically
I've always been very proud and unapologetic when it comes to my faith. Although my styles may vary from time to time, the fundamentals of being a hijabi woman have always remained the same. And I've always wanted to make that statement boldly.
Being Muslim, Finnish, and Iranian is really a wild mix! It comes with the challenges of finding your own belonging and your own sense of identity. It's very common for me to encounter people who try to fit me into their narrow box – not being Muslim, Finnish, or Iranian enough, or being wrongfully stereotyped. You constantly need to prove or defend yourself, whether that's in daily life or at work.
However, I think the positives outweigh the challenges. Having a mixed heritage is such a privilege, and gives you a vast understanding of how the world works. It also challenges you to grow and become your own person, not what others expect you to be. Once you understand this, what might seem as your burden transforms into your own superpower.
Coming from two vastly different cultures and being surrounded by family, relatives, and friends from different backgrounds, it has naturally given me firsthand insight into what diversity means , the challenges and benefits it brings, and what is needed to build inclusion.
I've also been brought up to strongly believe in myself. I'm not afraid to try things out and learn from my mistakes. There's always been a little rebel inside of me, pushing me to do things my way. Stepping outside your comfort zone and having faith in the process is what it really takes. That's the only way we can grow individually and collectively.
Out-of-the-box marketing campaign in Finland
I don't think I fully understood what we were getting into. I just thought it would be cool to celebrate Ramadan and Eid together. It just made perfect sense to choose this campaign because it was always packed with Muslims on every Eid. It was a case of being part of something bigger, and you understood the meaning and impact only after it all happened. The amount of positive feedback was overwhelming and unexpected. It was special seeing people from all backgrounds join together in celebration, and hearing how young Muslims felt seen for the first time.
A small number of far-right extremists protested against the campaign, which was just extremely bizarre. At the same time, it highlighted the importance of building inclusion.
On a personal level, it was super tough. I gave birth during the production of the campaign, and my daughter was only a month old when the Eid celebration happened. The power and strength of women just never ceases to amaze me.
Nike
The idea of handing out Nike's sport Pro hijabs to young players in need came from The Finnish National Football Association. When they approached me to consult them on the concept, I was mind-blown. If they had asked me a couple years ago, I would have never imagined an organization to take such a brave step. I loved working with the team in Finland and Indonesia, not knowing how big it would evolve into. It still amazes me how even the smallest acts, like handing out sports hijabs, can create that sense of belonging.
It caused a lot of limelight, which was fantastic. However, it echoes how out of the norm these events are, creating an extraordinary media buzz. I actually dream of the day when diversity is so normalized that its presentation does not cause a media frenzy.
DEI & me
I never planned to work in the field of DEI (diversity, equity, and inclusion), but it happened naturally and gradually. Although I began my early working life wanting to break the stereotype of being a Muslim woman, I quickly grew a deeper understanding of the systemic inequities that stood in the way of different minorities – how our lives are filled with similar and different challenges, and how much work there is to be done.
When I started out almost 7 years ago, I had a hard time convincing why advancing DEI matters, so seeing that shift happen in the past three to four years has been amazing. I feel really lucky and privileged to have the ability to engage in conversations and workshops, where some of the largest companies and organizations care enough to make the world a better place for everyone. But I'm not going to lie; the work itself is really hard and draining. You give a lot of yourself each time, and the subject matter is…well…heavy. I'm hoping to retire from it completely at some point.
Acting out my childhood dream
I started my acting career for myself, and that's kind of been my guideline for that path. I don't want to compromise who I am, and I won't wait around for the world to be ready. It's been my secret passion since childhood, and it took me a long time to build up courage and allow myself to follow that path. I really want to play different kinds of characters and roles, ranging from drama to sci-fi.
I've got big dreams and goals, but really, this is the one thing that I don't want to stress about. It's too precious to be ruined by stress, and I want to enjoy every moment of my journey.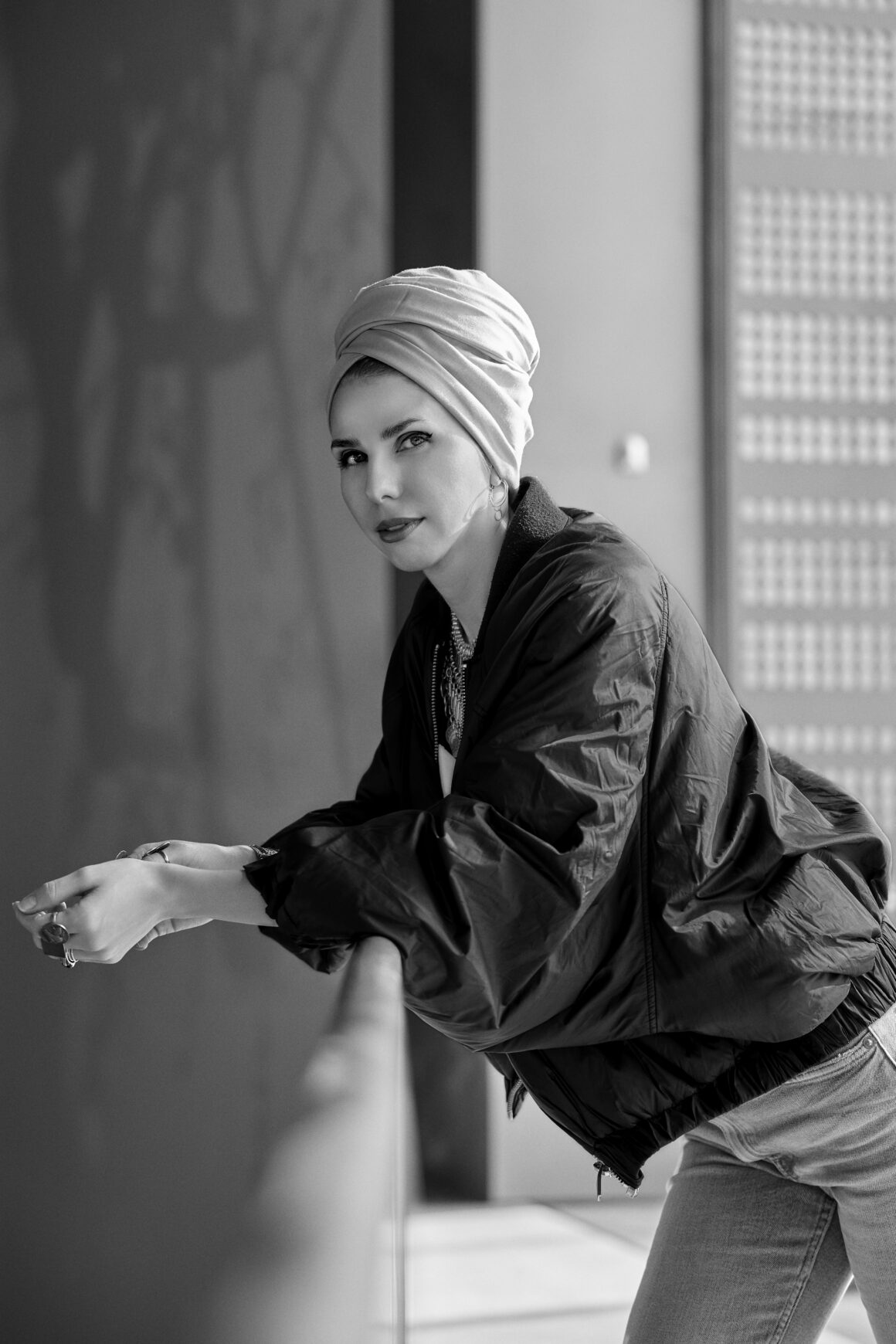 Photographer: Aleksi Kokora – Editor: Sems Erik
Speaking out publicly
I wouldn't be doing public speaking if the subject wasn't important to me. Sharing my thoughts, and listening and learning from others is an amazing experience that I don't take for granted.
I've had the honor to be a participant in many events as an official spokesperson with many illustrious names from Finland and abroad.
I'm also aware that representing modern Muslim women comes with a great deal of responsibility. Even though it may feel terrifying at times, being a role model for millions of people is something to be proud of. In the end, I am my own individual self. I am just one Muslim woman out of millions; a human being with my own imperfections and flaws.
The topics that I highlight about diversity, equity, and inclusion vary in my speeches. I focus on speaking about these topics from a broader perspective, and always from an intersectional angle. I'm most passionate about inclusive representation , understanding unconscious bias, and antiracism. They all ultimately revolve around the idea of building safe spaces and a deep sense of belonging.
Being a Mom & Entrepreneur
Balancing motherhood and work is such a challenging learning experience. Studies show that women do a lot of the unpaid work that goes on at home, which can lead to higher rates of burnout. I've had to work during the day, and study in the evenings and during the weekends; in between, I did my best to be a present mom and partner. In all honesty, it can be very tough, as it can put you in survival mode from time to time. I'm super fortunate and privileged to have a very supportive and involved partner who helps to carry the load and always encourages me to pursue my dreams. This is definitely not a given and not a position that all of us might share. It requires a lot of communication and team effort to make it work, and gender biases need to be addressed.

I want my daughter to learn that she can do anything she dreams of. I want to give her a space that allows her to grow in her own way, through trial and error. I also hope that through the examples I set for my daughter, she will understand that discipline and hard work both bear its fruits, but it's also important to remember what matters in life the most. Your spiritual needs, physical being, and mental wellbeing are essential, as well as spending time with the people you love the most.
Integration & Self-Reflection
There's a lot of development that needs to be made on a systemic level. We still have processes and structures , such as in our working life, that favor some and exclude others. I think we all need to work on developing a better understanding of how these systems either benefit or marginalize us. Our collective job is to ensure that these systems will create equal and equitable opportunities for all. The role of leadership plays a big part in this. So there's that, of course.
With that being said, successful inclusion always works both ways. Building awareness on both ends of the power structure is equally important, and reflecting on your own behavior and actions are key to growth. Recognizing our own biases and privileges is an ongoing journey. I'm still learning!
As you find your own sense of belonging, never compromise your own identity, whether that's around friends, family, school, or at work. For instance, there's a lot of research indicating how people might white-wash their names in order to find a job or an apartment, or hide their sexual orientation to avoid inappropriate comments or harassment. As long as you don't hurt yourself or others, you have the right to be who you are and the right to thrive. Always live with respect and appreciation of others. Stay active and initiate change. If you want something, go get it. Hold yourself accountable. And remember to rest and be merciful to yourself. Embrace the mistakes that happen along the way, as it's part of the journey of being human.