Photographer: Aleksi Kokora – Editor: Sems Erik
Born in Buco-Zau, Angola, Mauro Severino is a 23-year-old man living in Helsinki with a knack for football and fashion.
As his father played back in Angola, Mauro developed a life-long interest in football at a young age. At the age of 16, Mauro played in the national Veikkausliiga league for Finland and participated in test camps all over Europe. Mauro also joined FC Atlantis in 2021, which is a Finnish football club.
You can imagine that after being a professional football player for several years, it came as a shock to many when Mauro expanded his career portfolio by stepping into the world of fashion.
The sudden, yet exciting shift in Mauro's career has showcased the mentality of this creative young man. Because of his remarkable designs and partnerships with well-known international Finnish brands, he became the talk of social networking sites, the media, and among celebrities.
The most unexpected, yet practical decision I've ever made
After playing football in Helsinki, I returned to Tampere in 2019. I started to wonder whether I should continue my studies, as the only things I had in my life were football and occasional work. Doing two things at the same time felt like the best scenario for my future, as I realized that I did not have a safety net. If I was injured during a game, I had nothing to fall back on because my life was entirely focused on football. That was a realistic reason for me to start thinking practically in terms of my career and family. I got into the vocational school in Tampere, and studied for the vocational qualification in textiles and fashion. During my studies, I ironed clothes at the youth center and altered pants for my friends. I really wanted to start sewing, but football was not going anywhere.
I continued to juggle these two passions, even though it meant that I spent 10 to 12 hours a day in school.
First-time recognition in fashion
It started when I was young, back in the days when I hung out at the youth center with my friends and my twin brother. I customized, tapered, and shrank pants. From that day on, I became interested in customizing my own clothes and having a fresh style.
While the journey has been fruitful, nothing has come easily. I used to spend my days in school just because I didn't have my own sewing machine at home, and I wanted to continue learning. I am grateful for how far I have come, and for those who appreciate my work.
Marimekko
I was inspired by Marimekko's fabrics and patterns, so I wanted to make something different and street-stylish. I eventually collaborated with Marimekko, and people noticed it on TikTok. The collaboration and my hard work were definitely stepping stones in gaining more recognition.
My own collection for Marimekko certainly attracted lots of people, and created such a buzz on TikTok. In fact, the gang is convinced that my products sold out in minutes after posting new pictures online. After making such a remarkable step in my career, I am thankful for their unwavering trust, which has put me on another level if I might say.
Puma
Cooperating with different companies has been a lot of fun and instructive, especially when it comes to learning about professionalism in fashion. I'm very grateful that these companies have given me full freedom to execute my designs.
 I was at work, and my shift was just ending when I saw the message and the sender. I tried to persevere until the end of the shift, but I eventually had to go to the bathroom to read the message.
It asked if Mauro would be interested in making a jacket for pole vaulter Wilma Murro, who had just won the European Championship.
 After work, I called back and said that there's no need to think about this – I'm at the fair.
Huh, the sound of hearing that Wilma Murro will wear my jacket design has affected me positively. I was very honored to customize the jacket, as it was my first time designing something for a famous public figure. After creating the jacket, people started to notice me and my designs.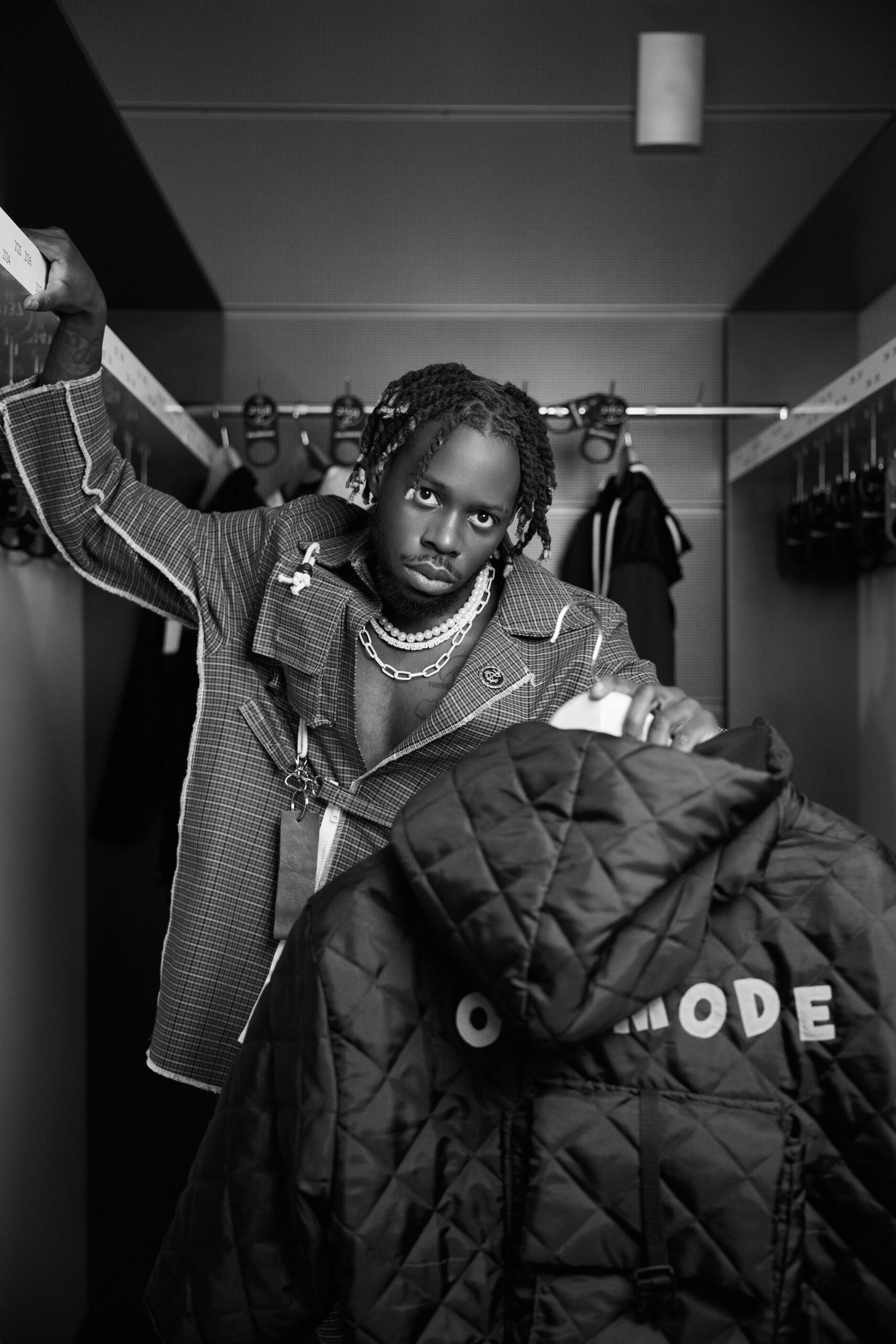 Photographer: Aleksi Kokora – Editor: Sems Erik
My brand
I wanted to establish the brand as soon as the slogan ''offline mode'' came to my mind. It came along naturally with my studies in textile and fashion.
The clothing brand is called Offline Mode, but on TikTok, I use the nickname Theycallmepoika for a special reason.
It comes from my mother. Every time I call my mother, she says son " POIKA" in Finnish. Mom always calls me this name – no matter what the situation is. Now that's my stage name.
There are a few things that I still remember to this day, and one of them is imagining the day when I become a fashion designer for celebrities. I've gone to a lot of festivals and concerts just to see and become inspired by the headlining stars and their appearance, and that thought of being their favorite designer almost always came to mind. Whenever I look at someone's clothes and their style, I immediately start working what could suit them more as if it was me dressing them in my head. And now, it all happens through my brand designs.
My clients are usually young adults that like streetwear and unique designs. I have had a few famous figures as clients, but I will not comment on who those clients are.
My long-term goal is to have my brand name and clothes become more famous in Finland. In addition to gaining fame, I also want to continue developing myself and build my skills. I believe my unique and attractive collections can own the spot. And for that to happen, I plan to start having my own fashion shows that display 100% of my collections.
Through pricing my own work, I have to consider what would be suitable for the Finnish market. However, I can say that it depends on the situation when it comes to pricing and money comes next.
Sometimes I feel like my list prices are really expensive. When I was a child, I would never have even bothered to ask my mother to buy one of those expensive designs. But times have changed, and people are wiser in knowing what fits them the most.
I'm interested in the fact that they want the clothes I made – and that I get to leave my mark on the streets.
Entering the market
I have not integrated fully into the Finnish market just yet. Nonetheless, I believe I am making a change in what kind of designs are brought to Finland, which also makes me unique. I encourage people to dress however they want to, and not care about what others think. Because my brand is still very small, I operate as a kevytyrittäjä – or better yet, a freelancer.
As you work through the challenges, there is a chance you might not be taken seriously at first. Doing the necessary work is not an easy feat, and it might be even harder for an immigrant.
When I came to Finland at the age of 9, I had to be brave. And throughout my life, I had to be a hard-working person to successfully localize within Finland and its labor market. Sometimes immigrants have to do twice as much.
" Believe in yourself and only listen to the people closest to you. Remember to stand up for yourself. "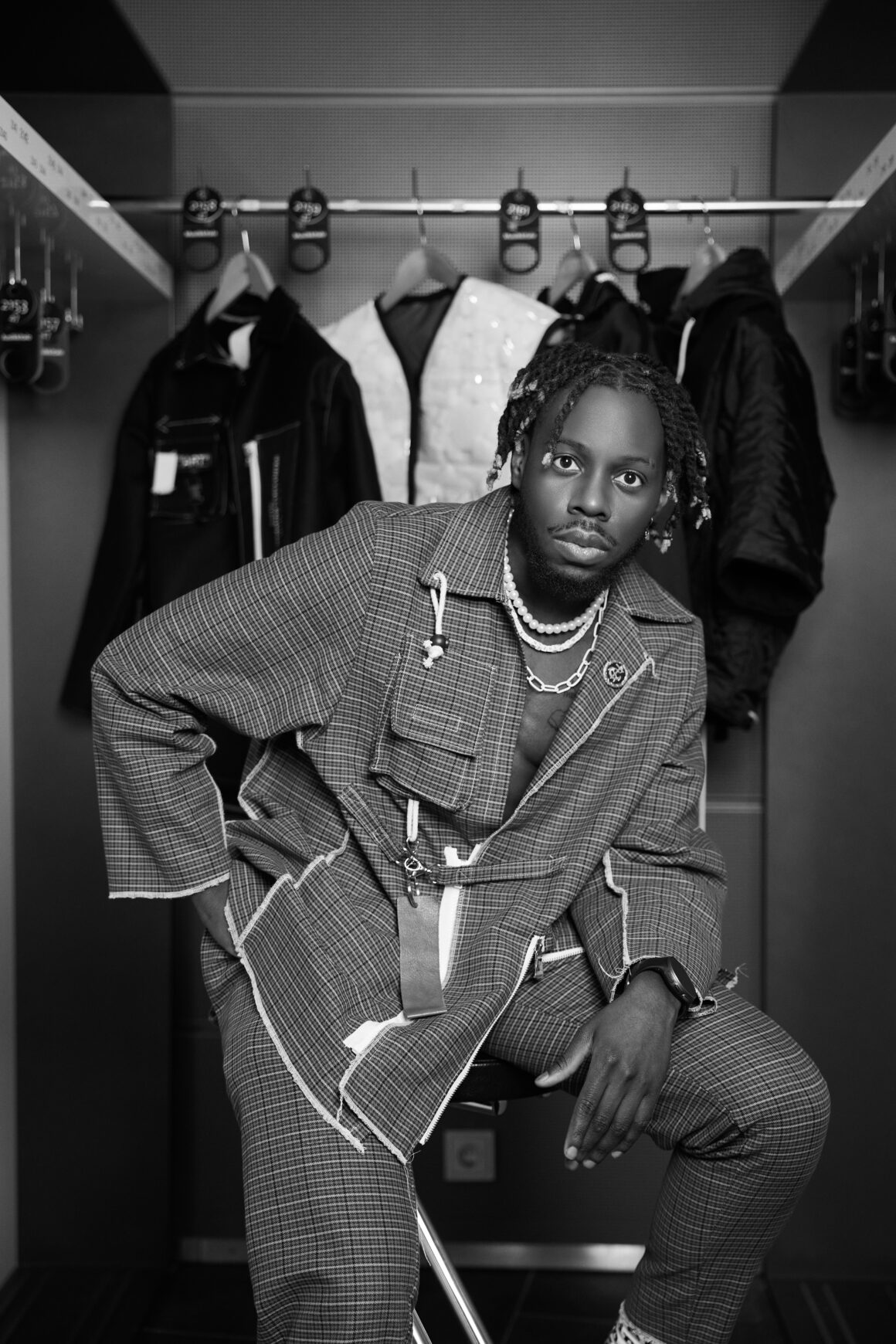 Photographer: Aleksi Kokora – Editor: Sems Erik
My success
Sometimes it is difficult to explain how I succeeded because the recipe for my success is diverse, and some of the main ingredients are my desire, clear vision, and persistence. I also have to give credit to my professional skills and my sewing machine, and many stands in my career, as long as they were there to support me. Through it all, my family has supported me, and my girlfriend also helps me with the administrative side of things.
With that said, my father is my biggest inspiration in fashion. Because of him, designs just flow into my mind and I want to execute them.
Unforgettable moments
There are many moments of success, but some of the most prominent ones would be from my football career. I had a test camp for Newcastle when I was 16 years old; we had a game against Liverpool, in which we won 3-1 and I made all three goals.
As for my fashion career, my success was tested differently with my first fashion show in Turku in May 2022. There was an audience and I had my own models. Seeing my designs on stage in a live show for the first time ever was an unforgettable experience.